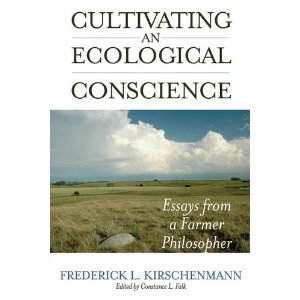 Farmer-philosopher Frederick Kirschenmann's Cultivating an Ecological Conscience is a collection of thoughtful essays about the "ethical and practical principles" of developing a sustainable agricultural system.  Drawing on his experiences as a theologian and a farmer, he delivers a series of measured arguments that a shift to more sustainable agriculture is a necessary change.  As I mentioned in my Monday Musing, this was a welcome break from the rhetoric some other authors depend on.  It is clear that the author is a product of a true liberal arts education, with a gift for elocution (I would love to hear him speak!) and a deep knowledge of the classics.  I was at times astounded by the variety of sources he drew on to support his economic and agricultural theories – everything from Adam Smith to Machiavelli.  I think the fact that he has read such different works and thought about their connection to agriculture is truly indicative of his passion for the topic.
This collection of his essays is very well edited and ordered, with each essay flowing logically into the next.  A few of the ideas presented do become repetitious, probably because most of the essays in this collection were written separately as articles or speeches.  I also had a few small problems with his complaints about scientists.  First, he claims that scientists who support genetic engineering do so because the still believe in the simplistic central dogma, which basically claims that our DNA leads in a straightforward way to our physical characteristics.  For example, someone might mistakenly believe that there is one gene which controls intelligence.  In reality, by undergraduate biology students are taught that life is more complex than that and genetic engineers are already working on dealing with life's complexities.  Second, he claims that science cannot be objective.  While  I agree with his point that some of a scientist's personal biases will unavoidably influence their work, he consistently supported this idea with the Heisenberg uncertainty principle stating that an observer changes that which they observe.  This is a physical property of the world and in no way related to our ability to be objective.  Sorry for the rant; bad science is a little bit of a pet peeve for me 🙂
Despite my scientific outlook on life, I thought some of his most beautiful essays were those on spirituality and those about loving the soil.  Although I hate books that are too preachy, the author makes it clear pretty early on that he has a very accepting view of religion which let me relax and enjoy reading about his perspective later – without feeling like he was trying to force his religion on anyone else.  I also really enjoyed his vision of the future.  He uses very rich language in a clear and concise way, which made it easier to imagine a future in which people are much more intimately connected with their community and their food sources.
Summary
Cultivating an Ecological Conscience – ★★★☆☆ – A thoughtful, well-researched collection of essays on the future of agriculture, probably deserving of a better rating but too dense for me to more than like it!  Very thought-provoking. Amazon|Goodreads